I'm trying to find a good weekend for the next "How To Make a Goblin Head Class".
Check hear and on Facebook for when a date has been set..
Thanks for your interest in my Goblin Head Class. The $20 cost covers all the materials that will be used in the class from the Clay to the Eyes to the paint and plaque.
There are 8 seats available for my class and if there is a tag along we will generally have some room. Its best for folks to pre-register so I can have a head count for the class and know before hand if I will have room for walk ins. If you pre-register and can't make it let me know so i can do a Paypal refund for you as soon as possible.
Please keep in mind that this class may not be for children under the age of 12. It really depends on the child and his or her ability to sit for 3 hours for the class. The Next  class will be at The Malted Meeple from noon till 3pm on Saturday January 23rd.
Scroll on down to the bottom of the page and click the registration button and completed the registration process. after the last step you will be directed to Paypal for payment. Please note you do not have to have a Paypal account you can pay with CC information at Paypal. Also the person registering may reserve up to 4 seats.
What does the class entail ?
I'll walk the group thru the basic steps I use to create a face. We will take the block of clay from its wrapper and turn it into a goblinoid trophy head
We will design our heads for the first part of the class take a 20 min break and perhaps enjoy some Malted Meeple Snacks and Drinks while browsing a future game we may wish to play..After our Goblin Heads have baked, we will do some addition work to them then attach our heads to a small wooden plaque.
Here is a quick visual run down:
We will take a block of polymer clay (9 or so colors to choose from)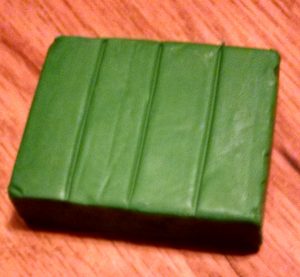 I'll walk the group thru the steps to make and lay out a face like this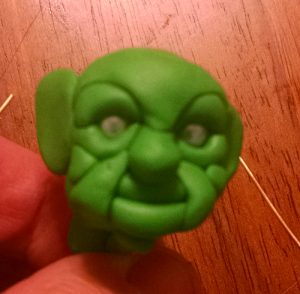 Then go thru some shaping and clean up (every persons will be unique)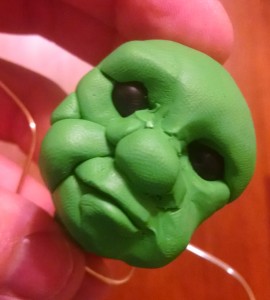 Finally get it to what your Goblin head will look like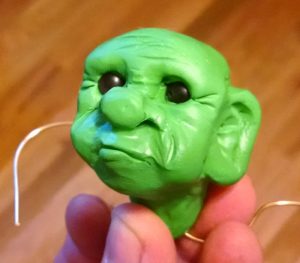 We will bake the heads and then give them a little wash and attach them to some display plaques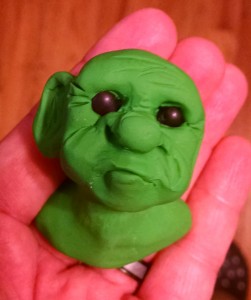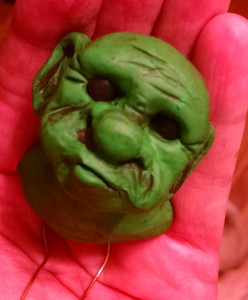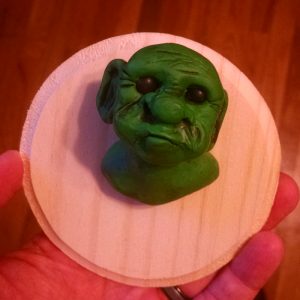 Here is a Sample from my January 2016 Class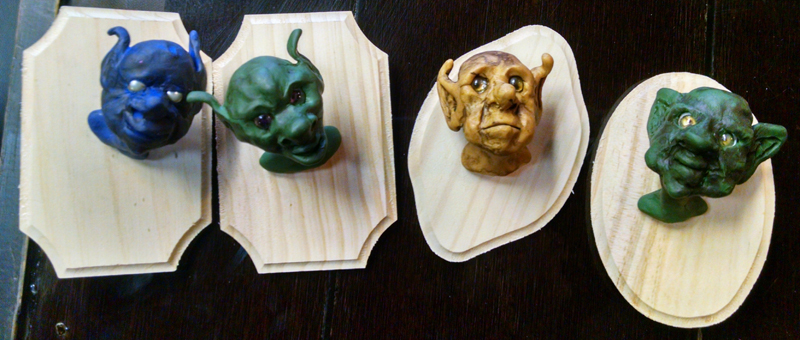 Each head Created will be a unique design pulled from your brain pan.
Do I need any experience in artsy endeavors? Nope, the picture below is from the first class I did while testing and putting the class concept together. The age group was from 15 to 45 and the skill level was from "I have never done anything artsy ever in my life" to "I do graphic design but never tried to sculpt before". It was a mixed bag of nuts at the class and they all had fun.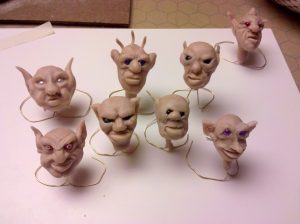 I will supply everything needed, however if you have some tools of your own it may be helpful to bring them. Here are some recommendations you can find at amazon and other area Hobby and Craft Stores. I don't have 8 set's of tools so we will be sharing the tools that I do have.
---
---
Also basic dental tools work well for starter tools.
If you have any questions before signing up please feel free to contact me.
After you click on the "Register" Button you will choose the number of seats/people that you want to reserve seats for. On the 2nd page you will give me some information on who will be showing up table side.  The Registration process will then have you verify all your info and then one last click will send you off to Paypal to pay for your seats.