I have been lax with the old website posts since Facebook makes it so darn easy to post there. However Since I'm closing Etsy down due to their implementation of Etsy Pay and their requirements of making vendors use it. They also are changing listing programming that will give higher volume sellers higher listings.. This means Made In China will get listed way higher than Independent Artists and Makers.

So onto what I have been cooking up as of late. I have several new things that are at shows with me now and that i'm working on to get some listed here.
Let's start with my New Cyclops Babies. These guys are Not OOAK as they are Hand Finished castings of my Original Design. I took inspiration from the old 7th Voyage of Sinbad.I didn't like the 2 finger look so I added a third and I also decided I wanted to make him fury. So my little fella has hair on his head and hair on his upper arms. This allows me to make him fully poseable and a little cuter.
Next up we have my New Gift Giver Goblins. These were designed to originally hold a ring or trinket of your choosing, however the also come with a precious stone of their own.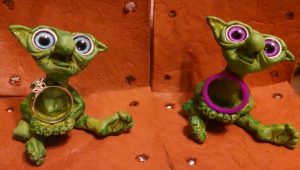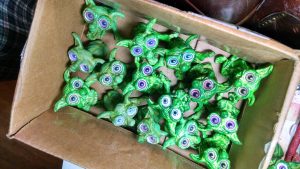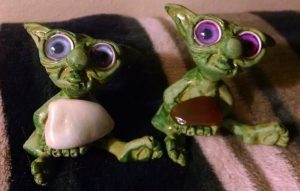 I just also finished a companion piece for the Gift Giver Goblin that is called the Pyro Goblin. He sits in awe of the fire and smoke coming from in incense cone that is buring in the saucer in front of him. GingerlyTwisted is making the saucers for me and I will have them with me at my next shows.
The Shoulder Dragons are also new for 2017 and come with a counter magnet that you place under your shirt. I should have started by saying the Shoulder Dragons Have magnets in their butts as well. I generally have 4 base colors at shows Blue, Green, Yellow and Red. I can however make them in any color scheme. The bodies of these are castings and the wings are all made with neoprene rubber and semi-poseable. All of these Pieces are hand finished.
As a reminder I also have my Dragon Keepers and can also do custom pant request on them. This one wasn't a custom order but is not one of my standard pieces.. I had the paint there so i made a Pink one. The Dragon Keeper will watch over you dice or counters and keep the riff raff from touching them.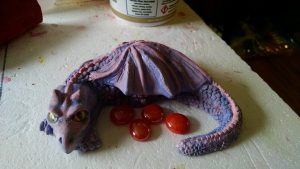 The Rare and often stepped on Horned Trenching Moles will be showing up at my mid year shows. These are hand finished castings from my original design so they don't really qualify as OOAK in the One OF A KIND kinda sense.. Below is my beta test build out with my castings. He turned out well and 4 more are in the pipeline being finished.
These are the original sculpts of some future Mini Trophy Plaques. They will be molded and cast so the price point can stay low on them.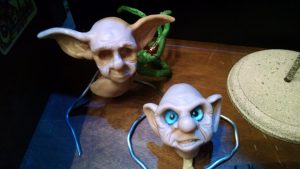 I have also added some Small EyeBall Flower Vases to my local Shows they have "faux" water in the vases to add a little extra to them.
I've added a Unicorn Horn to my offerings that has blood about the tip of it. This is inspired by one of "The Hunt of the Unicorn" tapestries. You can see a hunting hound is getting stuck in one of them.
This is my first test finish on my new Should Imp. He has a magnet in his but so he can whisper not so sweet nothings in your ear. This is a hand finished casting with custom hand made wings for each piece.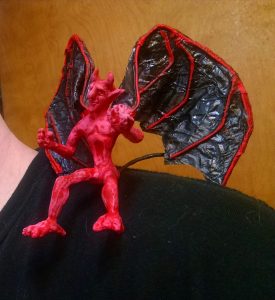 My Woodland Goblins made their debut at the end of last year and they have multiplied a little. They are hand finished castings with several hair types and eyes types.
Second to last is an experiment that I will see how they go at Origins this year. It is my Cthulhu Ear Squid. I only have the Right Ear made at this time as i'm just testing the waters right now. It took 4 test builds to finally find a concept that was pretty much universal and would work for almost anyone's ear. They wrap over your ear and a small piece also rest in your ear a little.
Finally we end with the first picture of my almost finished BugBear Trophy Plaque. He has yet to be giving a name and I have lots of tiny little details left to do to him.. But he finally looks like a The BugBear that he is meant to be.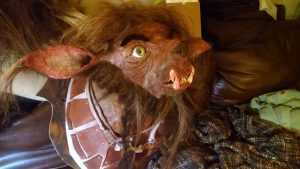 The End of June will be spent moving my Etsy Items over to this store and adding some other pieces to the storefront as well.. I'm working on inventory for shows and online so things don't have to be unlisted from the store while i have them at shows.
Ohh, one last piece I did for a friend.. I make little pocket bobble heads and this is a version of them.. It's a take on the House Elf… he also has a very basic set of legs that can be installed if she wants.. He is just sitting in my dice bag in the pic.