Since at this time I can't travel outside of my home base of North East Ohio to do shows to often I have 2 months of work I get to do before 2 shows in October. Lets do a run down of the past 4 weeks.
I've finished off Several Projects in the last few weeks and have added some things to my store front.
My Black Dragon Build is moving along well and should be finished this month. I should be starting to paint him this weekend and when he is done i'll post some photos..
What I'm calling my "Classic Dungeons & Dragon Earth Elemental Head". For those younger than my 45 years (mumbles curses under his breath about his age) The Original Monster Manual had very ohhh we shall say "Unique" black and white monster drawings. This Earth Elemental Head is based on the old drawing. I've taken some style liberties and added some here and there to it but the basic feel of this old school critter design.
Here is the old school art and you can see how my head is a "shadow" of the design.
There is a 25 watt LED light inside the head that allows the eyes to appear to glow.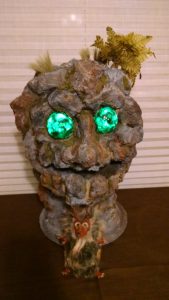 This build was a contestant back and forth for me.. at some points I just wanted to end the build and call it quits. I'm glad I didn't because in the end I'm happy with the way it turned out.
I finished my Carved Dragon Tooth and have started to make and finish castings. The tooth was designed to have a carved root for a dragon eye to be placed in. I'll have other eye color options at local shows and I should have the options on my site in the next month or two.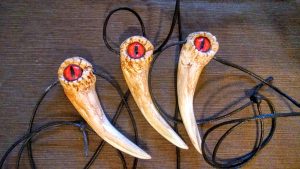 The cord on the tooth has a simple slip knot on it to allow the cord to be adjusted for the length you want to wear it at.
Head to my store and pick one up… you know you want to….
I will shortly have my scarab pins available at my store front as well.. I may look into making these into a pendant as well but for now it is only available as a pin. They are cast in resin as well and painted with a metallic finish.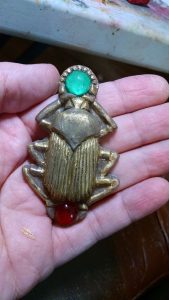 Also this month I have added some Evil Eye Earrings into my mix of items for sale. You can find a French Lever and a Pin Evil Eye Earring in my storefront now. I'll also have these at my two shows coming up in October. I'm tossing around the idea of also making these with other colors. They may show up at shows to test the waters before they are up on the site.
I decided that I would Sculpt, Mold and Cast my next Smurf Head so I could keep the price point I had on them. This is the first beta test fella… Pay no mind to the wig, talons, antlers and bird feet.. those all go to works in progress..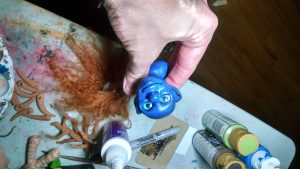 Lastly I'm working on a Cat Gryphon Art Doll and before I do that build I thought I should take a shot at some other Art Dolls.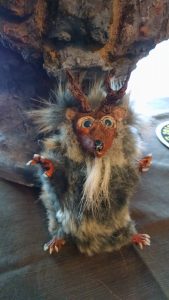 This is the first one..  I based the head and shape off a hedgehog and turned it into a fantasy woodsy critter…
Not sure if I'll be selling him.. If someone had a real interest I'm sure I'd let him go for the right price…
My next extended build will be the Cat Gryphon however i have a couple other smaller builds i'm wrapping up and will be molding and casting for the next show. I'm just about done with my Dragon Business Card/Dice Holder. and I'm working on a small pet dragon to have caged.
To many irons in the fire or some such phrase…
Thanks for finding my site and feel free to contact me with any questions..
Steve…