2016 is a year of change for Mr. Steve. After 19 years It's just me and the pack now. Sorrow, Charlie and Violet… and we may as well toss in the Puddum Cats Edie and Olive. I'll see how the rest of 2016 goes..
The first three shows of the year are in the can and went OK for the most part. Met some wonderful visitors and connected with some great fellow vendors.
You can find me this Summer at Origins Game Fair at the Columbus Convention Center June 15th thru 19th and the Oddmalls Back Yard Bash in Hudson on Friday and Saturday July 8th and 9th.  I'll show back up in October, November and December. Check out my Events page for more information.
I have my "How to make a Goblin Head" class coming up on May 21st at noon down there at the Malted Meeple in Hudson. I'll also be running the class this year at Origins on Friday the 17th at 1PM.
Visit my class page for more information on registering for my Class at the Malted Meeple and if you're a gamer heading to Origins I'm listed as event 501.
I finished off some new projects starting first with my "Fairy Dragons" hair clips. These Fairy Dragon creations come in their own display cage. You don't want the darn things flying off now do ya.
The Fairy Dragons come in 2 hair clip types. The Alligator Clip and the French Barrette Clip or if you like a casting can be done without the clip.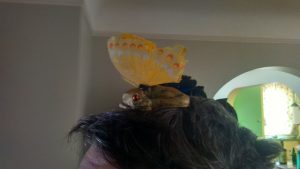 You are stuck with the top of my head till I find a lovely hair model to use…But I think you catch the idea.
I have also found that the Alligator clip works well for putting a dragon on your shoulder if you use an over the shoulder strap with a bag.
This is the third model that I have decided to mold and cast. They are all hand painted and given a clear matte coat finish. I will have 2 listed on my Etsy Store and 2 Listed hear at ClaudeRaymondDesign.com store. I will also have a custom order option in the store and if you would like even further modifications you can contact me to talk about it.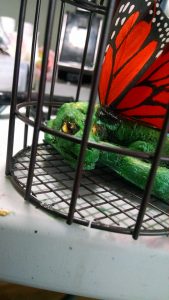 The 4th model that I have decided to mold and cast is a Baby Dragon that is designed to be sleeping on your shoulder.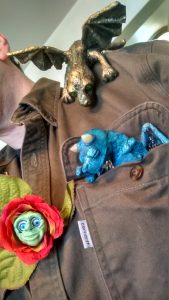 The Wings are all handmade for each casting and can be moved about on the Baby Dragon. The standard casting is seen in green and the castings can be modified to have to look of various Dragon Breeds. You can see the "Baby Black Dragon" and "Baby White Dragon" in the photos.
The Baby Dragons have Magnets in their bellies and a counter magnet is used under a shirt to keep the little fellas in place on your shoulder. I have unfortunately found out that putting your back against the wall and leaning will dislodge the magnets. Normal wear allows them to stay in place however. I will be including a large black band that can be used to help secure your Baby Dragon to your shoulder in case you're like me and you do a lot of leaning at art shows when there is a wall behind you and you forget there is a dragon on your shoulder and then it pops off and goes flying to the ground and after the third time you do it because you keep doing cause you're a dummy you finally manage to break it. (and breath)
I did learn from my dumbassness that the dragon lives when hitting concert 3 out of 4 falls.
I'll have this little experimental Black dragon with me at Origins and the experimental display egg with it.. The sleeping baby dragon is also an experiment but he wont be for sale.. he will just be sleeping in my pocket at my booth.
I also cooked up some Paint Your Own Face Magnets, Flower Faced Calla Lilly, some Unicorn Horn Trophy Plaques and a couple other things for 2016 shows.
When you pick up one of my magnet faces you get a set of eyes with it. You take it home paint it up and push the eyes into place.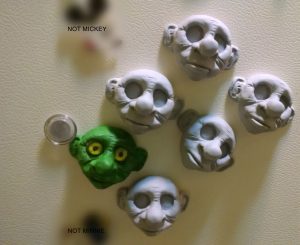 The New Catta Lilly flower faces come in pairs and i have also added some short stem roses
Some projects i'll be finishing this year are a Black Dragon Trophy Bust and an Earth Elemental Head that will have glowing eyes…
I'm just going to end my ramble for the start of the month there..
As always thanks for finding me on the interwebs and if you have any questions feel free to contact me here or at my facebook page.